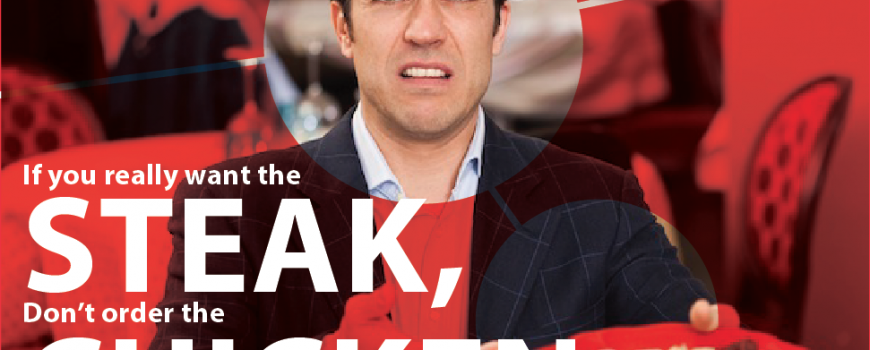 You get what you ask for.  (Well, at least you typically get what you pay for.)  Sounds simple enough.  There shouldn't be a lot of room for interpretation there, right?  Wrong.
It's funny to me how many people tell me that they want "steak" at their event, then go on and order "chicken."  It's a strange alignment of goals and objectives with event execution.
Have you ever been to a networking event where there was no actual networking?  Or maybe there were a few minutes set aside for networking during the 2 hour event, but that was it.  What if you are shy and it takes you awhile to warm up?  What if you didn't read "1,001 Conversation Starters" before the event?  You would probably think the networking (which was supposed to be the whole point of the event) was terrible.
Think about this:  If your event's top two objectives are 1) Education and 2) Networking, how much time/space and budget are you allocating to achieving these objectives?  If you spend the majority of your resources on paying a speaker to speak and force attendees to sit in chairs rather than interact with each other, what do you think the result is going to be?
Maybe it's because I'm a huge foodie, but for some reason, most analogies seem to make more sense to me when they are put in terms of ordering at a restaurant.  One of my favorite such analogies comes up quite frequently when discussing the importance of clearly identifying goals and objectives with clients before an event to improve the chances of getting desired results.
The example goes a little something like this:
"If you go to a restaurant and order the chicken, but you really wanted the steak, don't be upset with the waiter because he brought you…the CHICKEN!"
You got what you asked for, not what you wanted.  This seems obvious, but it never ceases to amaze me how many times the critical step of identifying event goals and objectives and then matching them up with execution is missed or not handled thoroughly. The result is always unmet expectations, disappointment and confusion when actual attendee behaviors and take-aways don't match up with goals.
Even though there is an entire menu of options for how to effectively run an event that obtains the desired results, the event planner or ultimate decision maker often makes it impossible to get what they want because they don't align execution with goals.  It isn't until the event is over and they are forced to sit down and calculate the ROI or report on the effectiveness of their marketing efforts that they realize:
1)  They got exactly what they asked for, but it wasn't really what they wanted.
2)   Their metrics for measurement don't line up with their event objectives and provide little useful data.
3)   They didn't spend enough time on the planning phase and had to make a last minute decision so they just went with what they always get.  (The same event format – the chicken.)
Nobody likes to feel like they waste their time and money on an event that produces disappointing results.  Here are my 5 Tips for Effectively Setting Event Goals & Objectives that produce real, measurable results:
Know what you want your audience to do.  It is important to understand your audience and ultimately what you want them to do or take away from your event.  What is the behavior change that you are looking for? Know what you are trying to achieve and define it clearly.   This makes it easier for the whole team to focus their efforts accordingly.  If you want attendees to network, don't keep them confined to chairs sitting on their hands for the majority of the event.
Set SMART objectives.  Make sure your objectives are Specific, Measurable, Attainable, Relevant and Time-bound.  Spell it out.   If your goal is to increase your e-mail contact list, make it a more specific goal of increasing subscriptions to your newsletter by X%.
Expect more, get more.  You aren't doing anyone any favors by setting vague and easily attainable goals.  According to study by Dr. Edwin Locke, "90 percent of the time, specific and challenging (but not too challenging) goals led to higher performance than easy, or "do your best," goals."  The study went on to mention that working toward a goal is also a major source of motivation and that "the more difficult and specific a goal is, the harder people work to achieve it."  If you are consistently satisfied with the same mediocre results and don't ask for or expect anything more, you will keep getting the same mediocre results.
Know your target audience.  Are you targeting all attendees with a broad branding campaign?  Or are you looking to reach key players within the organizations attending the event?  Each segment of your audience is unique.  Treat them like it and approach them in a way that appeals to their specific wants and needs.
Track and measure.  How do you know if you got what you wanted?  One of the best ways to get feedback on the effectiveness of your event is to ask the right questions.  In the example of the networking event, ask questions like:  "Did you meet anybody new?"  "How are you going to follow up with them?," in your post event surveys.  Make sure you change your evaluation metrics to measure against your objectives. If your goal is to measure increases in networking connections, don't ask attendees questions about what they thought of the food!
Ultimately, I just want everyone to be happy with what they ordered.  At IMT we know that sometimes you need an expert to guide you and make recommendations based on their experience.  We have a whole team of digital strategists who are eager help you navigate the world of social media, hybrid events, trade shows and interactive meetings.
Contact us today to learn how we can help you effectively set event goals and objectives.  Don't settle for chicken if you really want steak!  We'll help you make sure you communicate your order clearly.